Moving mountains. KENIAL e.V. supports, together with athletes, children's aid projects all over the world. We bring along, what makes sense.
As athletes we want the mountain, the perfect wave, the firn. We make use of the incredible nature in the spots that we love. We are pleased by other cultures and happy about hospitality in far distances from home. When we mountaineers, freeriders, surfers set out into the world everything is planned, membraned, gizmoed, gadgeted and always bleeding edge – super healthy, super fit and go! – it is time to give something back. We bring along, what makes sense. What kids on site really need. We research our projects very well. Identify the right contact persons in the countries. Organise cargo, custom duties and much more.
Everything arrives. The athletes delivers everything on site to the kids directly. Our projects are solely financed by donations.
current projects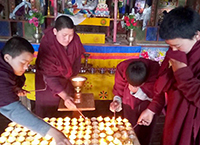 Bhutan 2019. The young woman of the monestary in Ura will get new warm jackets and laptops. To thank us they light butterlamps. We are touched
more…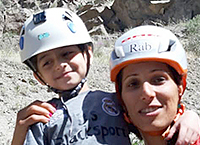 Iran 2019. Climbing stuff for Nasim Eshqis project to climb with young girls and boys. First time outside on the rock
more…
Nepal 2019. We are able to visit two orphanages in may 2019, both located in the center of Kathmandu. 
more…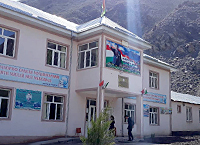 Tajikistan 2019. Four mountaineers on the way to a first ascent. Before that they will visit an orphanage in Tajikistan. And bring warm jackets and more.
more…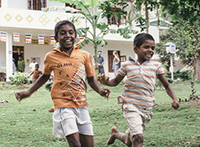 Sri Lanka 2019. 20 boys and girls will get shirts, shorts, Tatonkis and toothbrushes. The kids live in a children's home in Tangalle. They will be visited by two backpackers
more…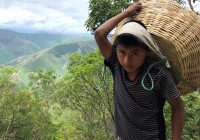 Guatemala 2018. 28 boys and girls get new mountain shoes and shirts. The kids live in San Cristobal. Two strong climbing girls will visit them on their tour through Guatemala.
more…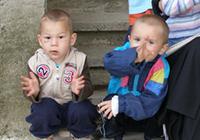 Ukraine 2018. A home for young mothers with children. Mothers, often even teenagers, and their children have found a home. Can go to school. They just need everything.
more..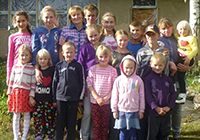 Kyrgystan 2018. 17 boys and girls between 5 and 18 years. The children are social orphans, two of the children have slight disabilities. We want to support them with warm jackets, pants and warm shoes.
more…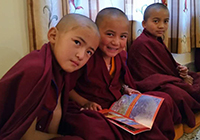 India 2018. The DAV Exped Squad is in the way to Mount Shivling. And will visit almost 100 children, growing up in a monastery and a nunnery. Because their parents are no longer able to take care of them.
more…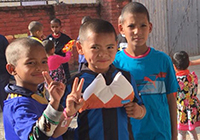 Nepal 2018. After handing over new shoes and cool shirts, balls and ball pumps, Pramila from Kathmandu, Elisa and Ju from Germany went shopping. A lot of things urgent needed in the kitchen: Kettle, cups, spoons and much more.
more…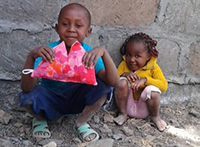 Kenya 2018. We support the new boys and girls in Nakuru. Bena now is taking care for more that 130 children. They need shoes, waterproof jackets, backpacks for school. Helli Gargitter is ringing all this along on his way to Mount Kenya.
More…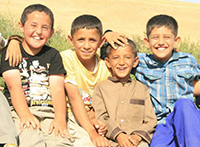 Iran 2018. Bisotun – the giant rock in Iran, 5km in width and 1200 meters of vertical rock make Bisotun one of the most challenging walls. The NGO Childfoundation provides and supports 100 children there. Nasim Eshqi will move a mountain for these kids.
more…