We support two large kenial projects in the north of India. In Dehradun we support children who have been admitted to two Bhuddist monasteries. Looked after locally by DKI – DRIKUNG KAGYU INSTITUTE, registered under the Charitable Societies Registration of India. In Dharamslala we support the school children of the organisation and the children in the surrounding slums in another project with the Tong-len Charitable Trust. Both projects are run locally by Bhuddist monks and nuns. The aim is always to give the children access to education so that they can leave the cycle of poverty.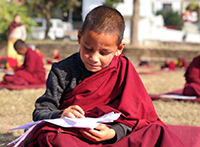 Dehadrun. Two monasteries, one male and one female. The boys. 61 small boys, between 5 and 15 years old are harboured and taught in the Jangchubling monastery. The children were given to the monastery because their parents can no longer provide for them and it is the only chance of education for the children. Once grown up, they can leave the convent life behind. The girls. Over 30 little girls who live in the Drikung Kagyud Tsun Goen nunnery. They too have been abandoned here because only one parent is still alive or the family is simply completely impoverished. They are looked after and learn maths, science, English, Hindu and the teachings of Bhuddism. They all get shoes, jackets, etc.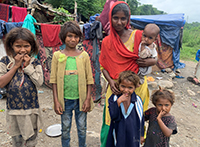 Dharamslala. The
tong-len Charitable trust
oversees several projects for the benefit of the many children from the surrounding 7 slums. Over 113 children aged 4 to 18 live in the NGO's school. Last year, another 112 children from the slum attended the school as day students. The children's families still live in the slums of Dharamsala, including younger siblings. The most urgent need is for warm clothes and blankets for the children who still live in the slum. With inadequate shelter, without blankets or proper clothing, they have to go through a harsh winter.