Arrived! 4th of October nearly 40 pairs of great outdoor shoes reached the porter-guides in Kathmandu. And we're crazy happy! Taken there by Klaus on his way to Bhutan. For the guides who often do not only guide but also carry heavy bag packs, the shoes are super important. For Ram, Randhoj, Nim, Maita, Som, Bhai, Ram, Pasang, Santosh … all those paths will now be safer and easier. A massive Thank You to www.lowa.de for the outdoor shoes in the right sizes.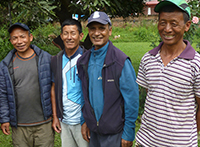 Guide and Porter. Guiding tourists on their way through the Himalaya. And also bearing heavy burdens at altitude in inclement weather on mountaineering tours. Without mountain shoes.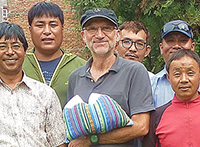 The kenial Klaus. Many years Klaus educated and trained the guides in Kathmandu. Together with KENIAL he brought the porters high quality mountain shoes. The right size for every guide. And they're so happy!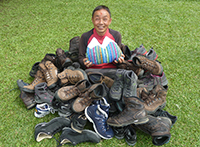 LOWA. The great cooperation with LOWA made this project possible. A massive Thank You to LOWA for the outdoor shoes in the right sizes.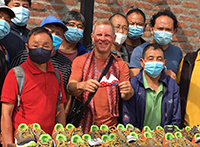 Again in October 2021 Luis Stitzinger visited the porters and guides of Intrek in Kathmandu. And distributes rain jackets, mountain boots and backpacks. Hopefully work will start again now.