Kyrgystan 2018 • Kyrgystan 2020 • Kyrgystan 2021• Kyrgystan 2023
Ulli, Luke and their children want to go to the world. A whole year. They start the journey with donkeys through Kyrgyzstan. A really cool idea, but the four also want to support other kids. They are moving mountains for children in the children's home in Semenovka. In mid-August, the Wankels arrive at the home, bring the children warm jackets and sturdy shoes for the winter and even stay overnight. Thanks to Misha, who helped in the country. And the Wankels a good trip.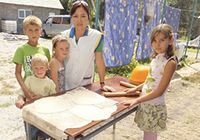 The children. 17 boys and girls between 5 and 18 years. The children are social orphans, two of the children have slight disabilities. We want to support them with warm jackets, pants and warm shoes.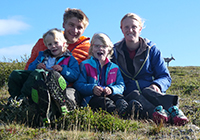 The travellings ones. The happy family Wankel on the way through wild Kyrgyzstan. With donkeys, on foot – to start a wonderful adventure together.
Contact Person. The home is supported by the association Hope for Kyrgyzstan. Gulaim helps us with all the important information.