Kyrgystan 2018 • Kyrgystan 2020 • Kyrgystan 2021
In 2018 Ulli, Lukas and their children explore the world. A whole year. They started the journey in Kyrgyzstan. They visited a children's home in Semenovka and brought warm jackets and sturdy shoes to the children. The Wankels arrived at the orphanage in mid-August. The mountain guide Misha is already our contact and organizer on site.
A visit to the Tokmok children's home will follow in 2020, here too the children will get warm jackets, shoes, hats and much more. to get. 20 children live in a confined space in the home. And we also bring things to the young mountain climbers of the SKIF Politeh Alpin Club that make mountaineering safer. Helmets, slings etc. But also warm jackets, hiking boots, ski pants.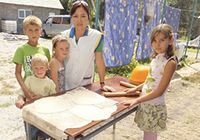 The children. 17 boys and girls between 5 and 18 years. The children are social orphans, two of the children have slight disabilities.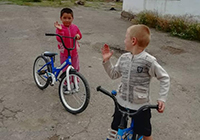 The children. 20 boys and girls between 5 and 18 years. The children life in the family type children's orphanage Baktyluu balalyk
in Tokmok city.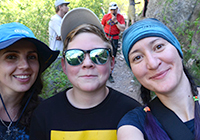 The youngsters. Young mountaineers discovering the mountains togehter at the SKIF-Politeh Alpine Club.