Nepal 2016 • Nepal 2017 • Nepal 2017 Exped • Nepal 2018 • Nepal 2019 • Nepal 2021 • Nepal 2022
We visit two children's homes in Kathmandu, Nepal. The children are well looked after there, get food, clean water, medical care – and can go to school. They desperately needed shoes and warm, weatherproof jackets. We bring blankets, buy tables and benches on site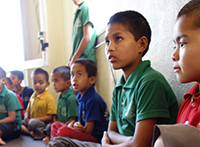 Kids. There are 50 Kids living in one home, 25 in the other one. Partly orphans, partly abandoned, partly kids whose parents can't provide for them. They are between one and 18 years old. They're going to school and have a safe place to live and play.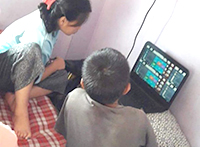 Homeschooling. There is a laptop for 25 children. We are also trying to improve the equipment of the home. Especially the COVID-19 pandemic shows how important learning from home is becoming. Education is the only chance for children.
Mountain. Many climbers, trekkers, climbers will go to Nepal, the Himalayas. Whenever you are on the road, take the time, and support these children. The woman of the childrens home will show you the way through Kathmandu streets to the kids home. And you will discover a joyful and open place in the heart of the city. And help 50 children on their way to the future.