The NGO Freundeskreis Mongolia helps children and young adults with the most different impairments in Mongolia.
In a special kindergarten and daycare, children with the most diverse impairments are cared for and individually supported with various forms of therapy. In a home service program, children with disabilities in their home are cared for, supported and their parents / caregivers are advised and supported in a variety of ways. In the youth workshop project young people and young adults are supported in their independence and accompanied to a meaningful employment up to a working relationship.
With Onjuka, we are also able to provide children in far-flung areas of the steppe with shoes, bags and warm jackets.
G Gallery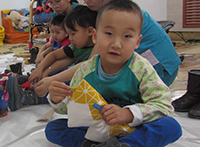 The children: 50 children with various disabilities between the ages of 1 and 22 are looked after and supported in the facilities in Ulanbaatar.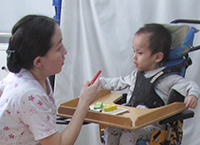 So that all children with disabilities have a chance of fostering and integration, the home service program for the poorest families in Ulanbaatar is an important development step.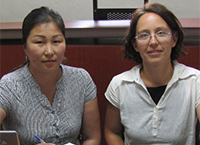 Contact. Badamaa is chairwoman of the NGO Enereeliin Tuuchee on site, Sandra heads the Association Freundeskreis Mongolei, which was founded in Switzerland.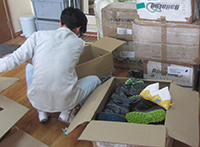 Much is possible before. Ahead of us, LOWA children's shoes travel by container. 200 pairs of warm shoes for the supervised children and their siblings. Adult shoes are also available for the impaired young adults, educators, therapists and social workers of the Home Services project. Thanx LOWA!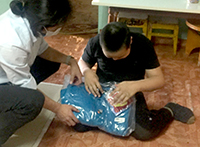 In April 2020, after initial easing of the lockdown, the local staff was be able to reach the children of the Home Service Project. They brought the children, siblings and parents warm jackets, shoes and socks that we had sent to Mongolia some time ago.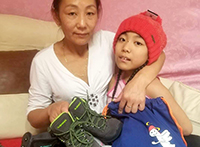 At the end of 2020 and in the dfirst half of 2021, we can continue to send many shoes, bags and clothes to Mongolia. A harsh winter and the strict lockdown make it difficult to hand them over to the families and children. But bit by bit, everyone is getting something. Sometimes container got stuck in China for months.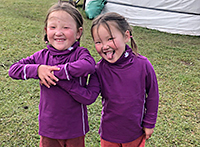 In summer 2021 Onjuka reaches all Kids in the rural areas personally and directly. So wunderful pictures we received in an amazing landscape.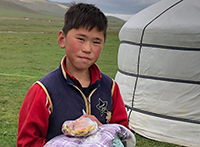 The yurts are hard to get to, especially in times of lockdowns. The children are very happy.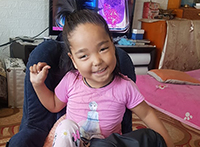 In October 2021 we reach the children of the home service project again. The young ones are going to kindergarden or school now and every child will get a backpack for this new step in life.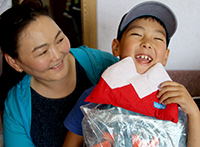 And in 2022 Sandra could finally distribute more things like backpacks, neck pillows and clothes. So good to see the kids after such a long time.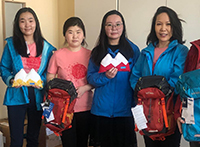 Also in 2022 also the stuff received more clothings and backpacks, especially needed for the homeservice. The ways are long to reach every child.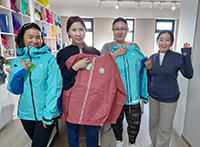 2023 – And of course it goes on. Each shipment takes a while, but everything arrives and is delivered directly to the children and their families. Sometimes a few small gifts are added. Because gifts are important in Mongolia.