We would like to support two projects in Namibia with travellers. And both are very different.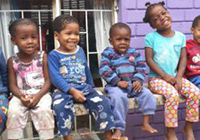 Windhoek, Katatura
Wadade Cares cares for orphans, half-orphans and abandoned children in Windhoek, Katatura. That is where the Hope came into being. But not only that, with the project NamPads. Wadadee, local seamstresses can sew sanitary pads, which the girls of the Hope Village receive free of charge. The seamstresses, however, receive a fair price for their work. Fabrics are needed for this great project.
more…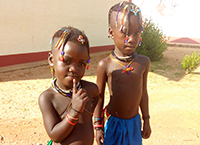 Kaokoveld
Lena is a teacher at Omuhonga Combined School, far in the north-west of Namibia. 400 schoolchildren, all of them stay at the school for the whole school year, just like all the teachers. The nearest town is 120km away. The children need clothes, sandals would be nice.
more…