Kirgistan 2018 • Kirgistan 2020 • Kirgistan 2021• Kirgistan 2023
Ulli, Lukas und ihre Kindern wollen in die Welt. Ein ganzes Jahr. Sie beginnen die Reise mit Eseln durch Kirgistan. An sich schon eine richtig coole Idee, aber die vier möchten auch noch etwas bewegen. Berge versetzen für Kinder im Kinderheim in Semenovka. Mitte August kommen die Wankels im Heim an, bringen den Kindern warme Jacken und feste Schuhe für den Winter und bleiben sogar noch über Nacht. Danke an Misha, der im Land geholfen hat. Und den Wankels eine gute Reise.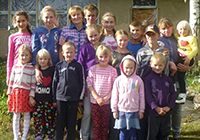 Die Kinder. 17 Jungen und Mädchen zwischen 5 und 18 Jahren. Die Kinder sind Sozialwaisen, zwei der Kinder haben leichte Behinderungen. Wir möchten ihnen warme Jacken, Schuhe und warme Hosen bringen.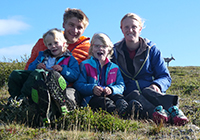 Die Reisenden. Die fröhliche Familie Wankel unterwegs durch wilde Kirgistan. Mit Sack und Pack und Eseln geht es immer der Nase nach in ein wunderbares Abenteuer.
Ansprechpartner. Das Heim wird vom Verein Hoffnung für Kirgisien e.V. unterstützt. Gulaim hilft uns mit allen wichtigen Infos.
Kirgistan 2021
Ulli, Luke and their children want to go to the world. A whole year. They start the journey with donkeys through Kyrgyzstan. A really cool idea, but the four also want to support other kids. They are moving mountains for children in the children's home in Semenovka. In mid-August, the Wankels arrive at the home, bring the children warm jackets and sturdy shoes for the winter and even stay overnight. Thanks to Misha, who helped in the country. And the Wankels a good trip.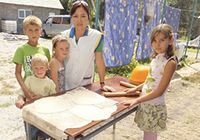 The children. 17 boys and girls between 5 and 18 years. The children are social orphans, two of the children have slight disabilities. We want to support them with warm jackets, pants and warm shoes.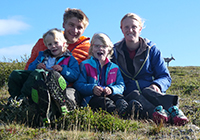 The travellings ones. The happy family Wankel on the way through wild Kyrgyzstan. With donkeys, on foot – to start a wonderful adventure together.
Contact Person. The home is supported by the association Hope for Kyrgyzstan. Gulaim helps us with all the important information.