Südafrika 2020 • Südafrika 2021
Im Dezember 2020 beginnt unser Projekt in Kapstadt, zusammen mit The Homestead.
The Homestead hilft Strassenkindern sich in einer sicheren Umgebung zu stabilisieren. Befasst sich mit etwaigem Drogenmissbrauch, Verhaltens- und Traumaproblemen, kümmert sich um Bildung, Schulbesuch und eine mögliche Ausbildung der Jungs. Wenn möglich versucht The Homestead wieder Kontakt zu den Familien zu knüpfen, oder die Jungs in dem angegliederten Launchpad Project unter zu bringen. Um später als unabhängiger und eigenständiger Mensch zu leben. Insgesamt betreut The Homestead mehr als 400 Jungs pro Woche, denn die Sozialarbeiter kümmern sich auch um Kinder, bevor diese auf der Strasse landen.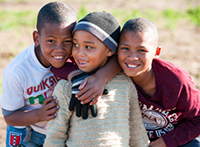 2020 besuchen wir die 65 ehemaligen Straßenkinder im Alter von 7 bis 17 Jahren, im Heim in Kapstadt. Sie können wieder zur Schule gehen, einen geregelten Tagesablauf erleben, Fußball spielen und vieles mehr. Die Jüngeren sind in einem großen Heim untergebracht, die Älteren leben in einer betreuten Wohngemeinschaft direkt in der Stadt.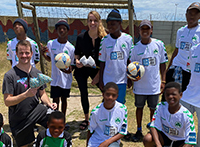 Im Dezember 2021 reisen Stefan und Crissi zum Kitesurfen nach Kapstadt. Und besuchen vorher die Kindern von The Hoemestead. Im Gepäck sind 50 kg Fußballkleidung, gespendet von "Trikot für die Welt" aus Hamburg.
Wir freuen uns immer über Reisende nach Kapstadt. Wir geben einfach das, was die Jungs brauchen. Das kann dann im Hotel abgeholt werden, oder man besucht die Kinder zusammen mit den Sozialarbeitern.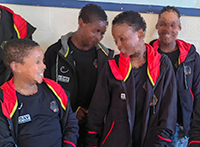 Im November 2023 erreichen durch unsere liebe Ellen jede Menge sehr coole KLamotten die Jungs. Danke an den DAV für die super Spende. Man sieht den Kids die Freude an. Auch wenn die Gesichter zu ihrem Schutz "geblurrt" sind.